All professions within the health care sector work together to bring patients and their loved ones the care they deserve, and Medical Administrative Assistants are no different. Medical Administrative assistants play a critical role in the operation of any medical office.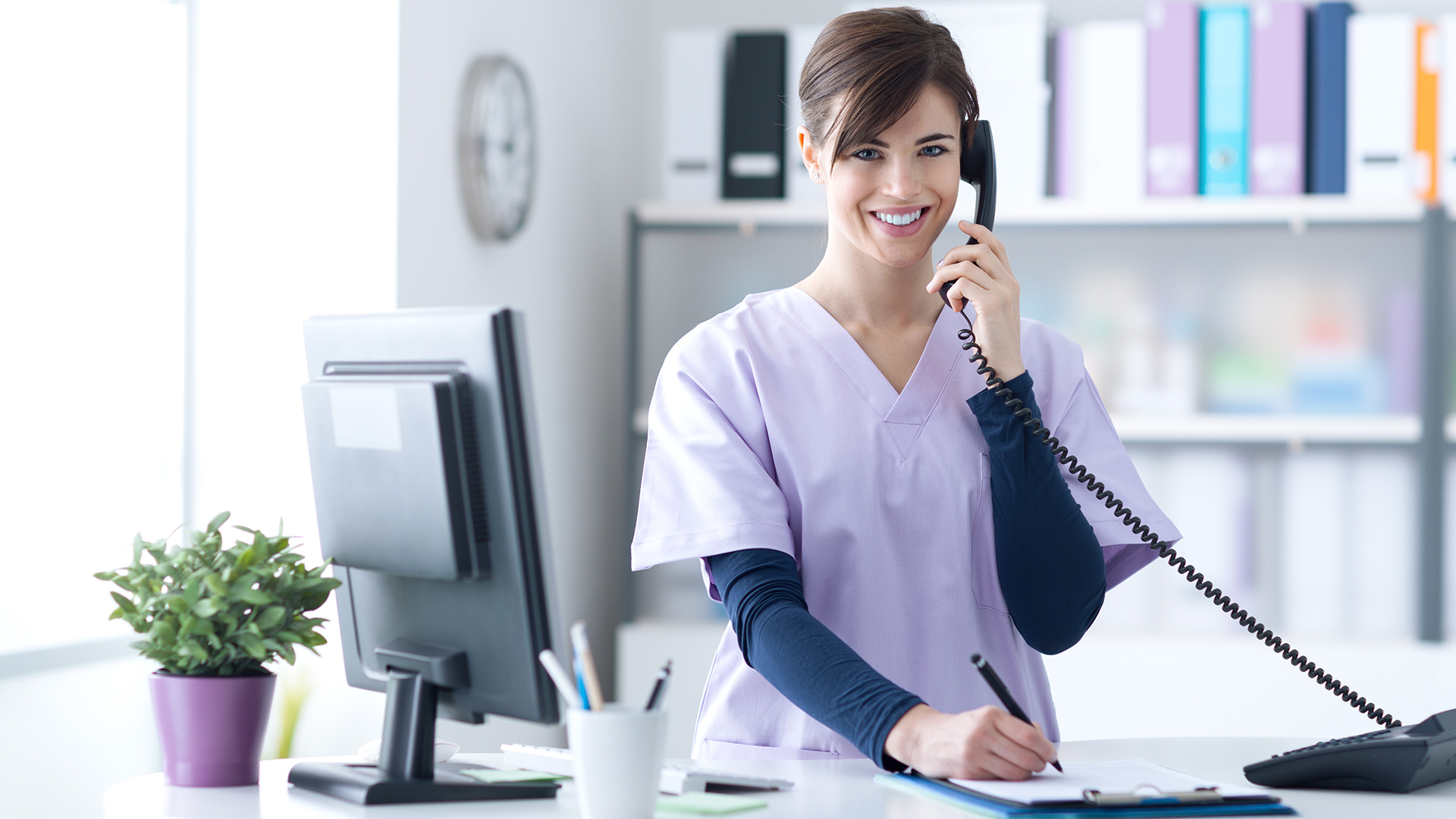 What does a Medical Administrative Assistant Do?
The medical administrative assistant's role varies depending on the work setting or the position. Medical administrative assistants generally provide administrative, technical, and secretarial help and support to other medical professionals. The job can include communicating messages from staff to patients, entering medical reports, conducting initial patient interviews, scheduling and confirming appointments, and much more.
Medical administrative assistants have the opportunity to work in numerous work settings, such as hospitals, physiotherapy clinics, chiropractors, sports injury clinics, dentists, orthodontists, doctor's offices, and claims departments of an insurance company. You can become a medical administrative assistant through administrative assistant training through an accredited school.
Here is a general list of the responsibilities and tasks medical administrative assistants will deal with in their workweek.
Greet and register patients
Redirectors escort patients to their respective areas
Address patient concerns in person, over the phone, or by email
Maintain office and medical supplies
Complete administrative and clerical tasks, including medical records, billing, and data entry
Maintain office and

medical supplies

Complete insurance claim forms
Schedule and confirm client appointments
Communicate messages to medical staff and patients
Conduct initial interviews with patients to complete documents, forms, and history
Daily tasks for a medical administrative assistant may include:
Schedule and confirm routine appointments
File and sort medical files and other documents
Respond to all in-person, phone, and email inquiries
Contact and follow up with insurance companies and patients
Process and prepare medical files
Receive payments and record them into patients records, and issue receipts when needed
Day-to-Day Duties of a Medical Administrative Assistant
Typically medical offices open around 8 or 9 a.m., which could be earlier depending on the clinic or office. Depending on the medical administrative assistant's requirements, they may have to come in 30 minutes or an hour earlier to prepare for the day before the first patient arrives.
The beginning of the day for a medical administrative assistant starts with logging on a computer system to pull up the schedule for the day, then they will:
Prepare by seeing what type of appointments the physicians have for the day
Scheduling and

organizing charts

Filling out paperwork for the day, such as insurance forms
Reviewing the daily patient schedule with the physicians
Helping prepare exam rooms with the appropriate supplies before each new appointment
Listening to any phone messages that came during the previous evening or earlier that morning
Checking emails and see if there are any urgent requests
Answering phones at the front desk
The workday for a medical administrative assistant is busy from the moment they start work, beginning with scheduling appointments, preparing charts, filing information, and walking patients to the room.
Time for Patients to Arrive –
When physicians are ready, the medical administrative assistant escorts patients from the waiting room into the doctor's office. As soon as the office is open, patients start to arrive. As patients come, the medical administrative assistant's role is to chem them in, verify information, and direct them to fill out any necessary forms. During this time, the medical administrative assistant will enter the patient's information into the computer system and record blood pressure tests and other vitals. Once you finish with one patient, it is usually time to do it all over again. Sometimes patient's appointments will be 15 minutes apart.
When there is the time between patient take-
Medical administrative assistants will log on to their computers and reach out to patients and insurance companies for follow-ups. As this all happens, medical administrative assistants are answering phones and greeting patients.
After Patient Appointments –
when the patient is done with the physician, it is the medical administrative assistant's job to clean rooms, including wiping down the beds, changing linings, and ensuring all the equipment is ready for the next appointment.
End-of-day –
physicians will be done seeing their patients for the day, but the day isn't over for a medical administrative assistant. They will have to complete any unfinished tasks from the day. These duties may include: scheduling appointments, completing patient charts, dealing with prescription refills, and returning phone calls.
The end of the day is quieter and less busy, which is an excellent time to catch up on tasks, unwinding, and prepare for the next workday.
Final Thoughts
The day-to-day duties of a medical administrative assistant are hectic. But it can be a rewarding job, as medical administrative assistants gain work experience in numerous areas.